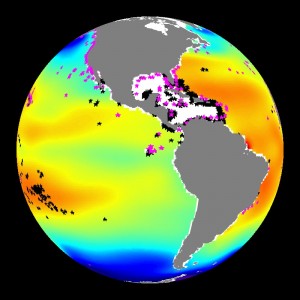 Every day, the ocean absorbs about 22 million tons of carbon dioxide, which is about the weight of 15 million hybrid automobiles. Just as you can't see the carbon dioxide that comes out of your own body each time you exhale, you can't see the gas as it dissolves into the seas.
Much of the carbon dioxide emitted into Earth's atmosphere ends up in the ocean. Of every 10 tons of the gas added to the atmosphere, two or three end up in the water. The growing emissions of carbon dioxide that human activities add to the air have begun changing the chemistry of the oceans. It's making them more acidic, a process called ocean acidification.
This feature appeared in Science News for Kids in April.