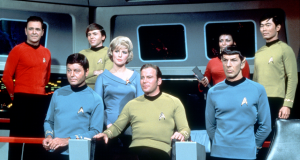 Fifty years ago, the first episode of Star Trek aired. It started as a quirky science-fiction television show that lasted for a mere three seasons. But the out-of-this world series launched a long-running story that went on to capture the imaginations of generations of viewers. It has left its fingerprints not only on pop culture but also on the world of science.
The original Star Trek followed a multicultural space crew in the 23rd century as it traveled to distant corners of the galaxy on its ship, the Enterprise. Each episode began with the captain's voice telling viewers that the crew's mission was "to boldly go where no man has gone before." Its officers and crew faced terrific challenges, hostile aliens and strange new planets. Though the series wasn't a rampant success, it led to 13 movies and five more series over the following decades. A sixth series, Discovery, will begin airing in 2017.
Space may have been the "final frontier," but it wasn't the only one in this fictional world. Explorers on the Enterprise used a variety of futuristic tools, weapons and other technology that seemed wild and impossible. The ship traveled through space faster than light, at "warp speed." It used something called a tractor beam to capture or tow other ships. In the face of danger, characters fired intense beams of light, or lasers, from weapons called phasers. To heal the sick, the ship doctor, "Bones" McCoy, scanned patients with a handheld device called a tricorder. ("Tri-" comes from the Greek word for three. So, a tricorder could do three things: scan, record and compute.) Hostile alien ships could make themselves invisible by "cloaking." And characters frequently used devices that acted very like today's smartphones and tablet computers.
Read more here.
Image: CBS