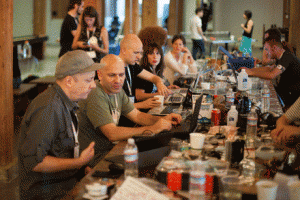 Physicist Matt Bellis attended his first Science Hack Day in the fall of 2010, in Palo Alto, California. Like many scientists attending the event for the first time, Bellis was skeptical. "Hacking," after all, is usually left to computer programmers.
 However, Bellis, at the time a postdoctoral researcher at the SLAC National Accelerator Laboratory, had an idea that wasn't exactly typical for SLAC: He had a trove of experimental particle physics data that he wanted to somehow turn into sound, and he thought that music and computer specialists, among others, could help. A friend urged him to attend Science Hack Day. Once there, he spent a Saturday morning describing his proposal, and, by the afternoon, an interdisciplinary team of programmers, scientists, artists, and others joined him in a 24-hour quest to make electron–positron collisions sing.
Read more about Science Hack Days at 
PNAS, 
here
.