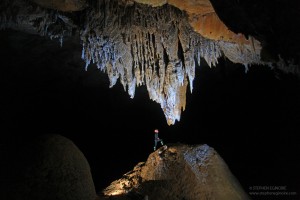 HOW low can you go? Dedicated deep cavers plumb the depths for an answer, and a newly announced expedition may just get to the bottom of it all.
For decades, cavers have competed informally to find the world's deepest cave, pushing the boundaries of science along the way. It's a perpetual quest – they can never truly know if they have found the absolute deepest. Bragging rights have bounced from cave to cave, but since 2004 the record has been 2191 metres, held by the Krubera Cave in the western Caucasus mountains, which is also home to the world's deepest land animal, a springtail.
I wrote about efforts to find the world's deepest cave in this article for New Scientist in December 2015.
Image: Stephen Eginoire