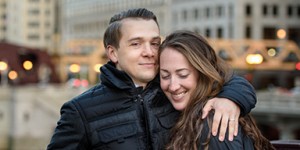 Children can be many things. Joyful, energetic and exasperating. Curious, playful and sad. For P.J. Lukac, who is finishing his pediatrics residency at Chicago's Rush University Medical Center, children are also a source of inspiration and hope.
"They're a joy to work with, and theymake me laugh," says the 30-year-oldpediatrician of the children under his care. "Even when they're sick, they can put a smile on your face."
Now that his residency is nearly over, Lukac says he plans to work as a pediatric hospitalist—a doctor who treats children and babies in a variety of hospital settings, from the emergency room to the intensive care unit.
"I like seeing them get better in the hospital, and I like sending them home," he says.
Read the entire article, published in the summer issue of
Cancer Today, 
here
.