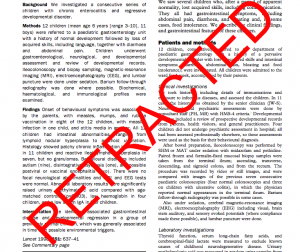 If the results from an experiment look too good to be true, look again.
Those are wise words to remember. Consider, for example, a recent case of what looked like a breakthrough in treating the deadly virus HIV. The findings turned out to be bogus. All it took was a second look.
A study reporting success with the vaccine was published — then later retracted. When a journal retracts a paper, the study is removed from the body of scientific evidence. It means the study is so flawed that it never should have been published in the first place.
Retractions can pack a nasty sting for the scientists whose work was affected. But those retractions also play a necessary role. Acknowledging mistakes helps science move forward.
Read more here at Science News for Students. 
Image: The Lancet