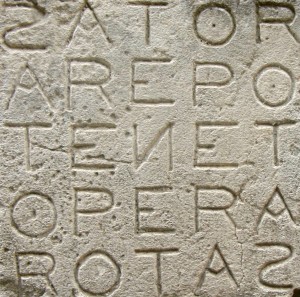 April is Mathematics Awareness Month. April is alsoNational Poetry Month. Coincidence? Yep, almost definitely. But it's also an opportunity: I'd like to propose that we—you and I, at least until the end of this blog post—merge the two and celebrate the first-ever Mathematical Poetry Month. No fooling.
Connecting math to poetry isn't a new idea. Archimedes did it, committing the mother of all word problems—a Diophantine beast—to verse. The Sator Square, a mysterious Latin palindrome written in a square that can be read in multiple directions, is a pattern poem with mathematical underpinnings. (The oldest-known Sator Square was recovered from Pompeii. The one pictured here contains the same words, but was found in France.)
Read more about my campaign for math poetry month at the Last Word on Nothing or at Slate.
Image credit:  M Disdero via Wikipedia