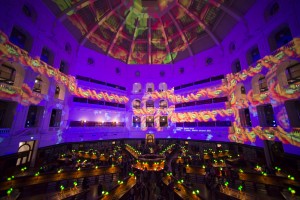 On February 22, festival-goers at Melbourne's
dusk-to-dawn White Night celebration lined
up in droves outside the State Library of
Victoria for an intimate evening with herpes.
And they got it, in a big way: Bobbling
around on the 40-meter-diameter central
dome on the ceiling of the library's La
Trobe Reading Room was a bright and
colorful computer animation of a herpes virus particle.
Read more in this story from PNAS about Drew Berry's big virus show.
Image: Drew Berry