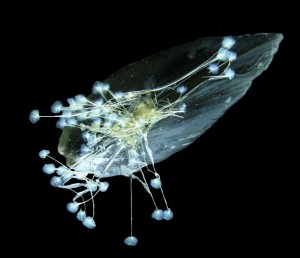 J. Herbert Waite was a graduate student in biochemistry in the 1970s when he began to wonder how mussels cling to rocks in the turbulent intertidal zone, where they slurp nourishing plankton from the water. So in summers and fall, Waite donned Wellington boots and rubber gloves and headed for the Connecticut shore near Rocky Neck State Park to pluck bivalves from the water.
Despite initial skepticism from his peers about the research, Waite is now considered a pioneer in the field of bioadhesives, a thriving interdisciplinary endeavor that connects marine biology to materials science. "Nature is a bottomless treasure trove, as far as adhesion strategies go," says Waite, now at the University of California at Santa Barbara. "Adhesion is often a survival mechanism, but to my surprise very few strategies are the same. Barnacles and mussels have completely different strategies, different architectures."
Read the entire article at PNAS. 
Photo courtesy Phillip B. Messersmith.