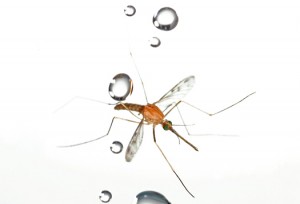 To humans, falling rain usually amounts to little more than a minor inconvenience. After all, we are big and raindrops are small – they splatter on our heads and sleeves, and we end up a little wetter. But a mosquito's mass is only 2–3 μg and the largest rain- drops may weigh up to 100μg.
To those tiny bugs buzzing about in the rain, a gentle spring shower comes on like a downpour of London taxis, cascading from the sky at terminal velocity.
And yet, they live…
Read more in this story from the November 2012 issue of Physics World.