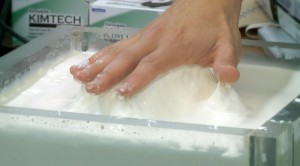 Almost anyone can tell the difference between a liquid and a solid. A liquid flows. A solid stays put. You pour a liquid and push a solid. The difference seems as clear as water and ice.
But some stuff doesn't fit neatly into either group, like the goop you get by dissolving cornstarch in water. (Cornstarch is corn flour that helps thicken pie fillings and gravies.) The concoction looks like a liquid, and can be stirred gently with your hand or a spoon. But appearances are deceiving: Fill a swimming pool with the stuff, and you can run across the surface without getting wet. It's a good party trick — or a launching point for a science fair experiment.
"If you were to punch [it], you might break your wrist," Scott Waitukaitis, a physicist from the University of Chicago, told Science News. He and other physicists often study the behavior of different states of matter to understand natural forces.
Read more at Science News for Kids.