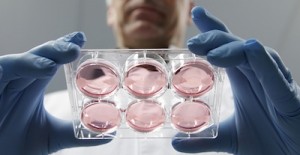 If all goes according to Mark Post's plan, he will appear on television in October and devour a hamburger that costs about twice as much as most houses do in the United States. Yes, as Charlotte the spider might have written, that's some burger.
"It's not something you'd flip every day on the barbecue," admits Post, a biologist at Maastricht University in the Netherlands. The burger's price — roughly $330,000, or about 250,000 Euros — might break a record for the most expensive ever.
But that won't be the biggest reason for its making history. The burger will look like meat, and be cooked like meat, but no animal will have been killed to make it. Under a microscope, the patty's cells will look identical to those from animal muscles, the source of conventional meat. Post says he wants this publicity to make people think hard about food of the future.