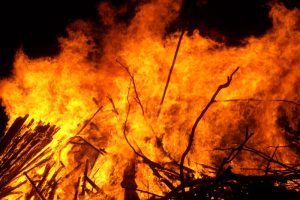 Robert Kremens fights fire with fire. No, really – that's his job. Kremens sets fires in a host of locations across the US. In April he drove 18 hours from his home in Rochester, New York, to Tall Timbers, a research station in Tallahassee, Florida, to set three or four fires.
In mid-May he travelled to Wisconsin with the US Fire Service, again setting blazes, keeping his distance and watching how they burned. This summer, he's back in New York, setting more fires closer to home. Most of us break up the year by months, seasons or semesters; for Kremens, it's divided by his burning schedule. Kremens, a physicist and a trained firefighter, also seeks out fires he didn't set. On 31 July 2015 lightning struck a tree a few miles north of Hume Lake in central California's rugged Sierra National Forest, igniting a devastating forest fire that raged for weeks, ultimately consuming more than 600km2 . The blaze, named the Rough Fire, began in a steep and hard-to-reach area and climbed uphill, boosted by the warm, windy, dry conditions. Most people at the time avoided the location. But a week after it broke out, Kremens caught a plane from New York to California to join a fire-monitoring team with the goal of measuring and analysing the wildfire in real time. They weren't there to fight the fire; they were there to understand it.
Read more in this Physics World feature, here.