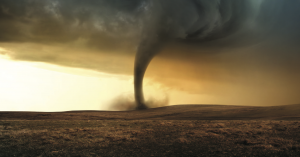 In more than 20 years as a meteorologist, Joshua Wurman had seen – and chased – more than 150 tornadoes. But the one that hit his pickup truck caught him by surprise.
On a warm spring evening in 2012, Wurman was driving down a two-lane highway in the small plains town of Russell, Kansas. In Russell, as in hundreds of other communities across the central and eastern US, late spring is tornado season, and Wurman – who became something of a TV celebrity in 2008 after a string of appearances on the Discovery Channel show Storm Chasers – knew that their chances of seeing a twister were good. Earlier in the day, radar had shown a giant storm brewing over central Kansas. When he and his team hit the road, their aim was to collect real-time data on the wind and weather using mobile radar units that can scan and image the structure of storms. Wurman had been trying to put instruments in the twister's path. About a mile away, collaborator and atmospheric scientist Karen Kosiba was directing the mission from one of those mobile units.
The tornado chaser's gamble is to get close enough for good data, but not close enough to endanger your life. That night in Russell, Wurman – a father of four – came close to losing the bet.
Read more in this story from the July 2017 issue of Physics World, here.