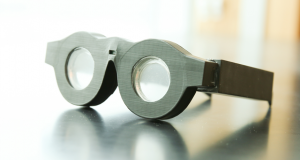 With round lenses set in super-thick frames, these new eyeglasses look like they belong on a cartoon character. But what they lack in style, they make up for in smart design. Their lenses are made of glycerin — a thick, colorless liquid — encased in clear rubber. And without effort, they will focus on whatever the wearer looks at.
Nazmul Hasan is the first to admit that the glasses he helped design may not be comfortable — or look cool. "They're not very fashionable," he concedes. "And they're heavy," notes this graduate student in engineering at the University of Utah in Salt Lake City.
Still, these glasses are truly special. The lenses in normal glasses curve in a specific way to help a person's eyes focus on something close or far away. Not everyone who needs glasses requires the same curvature. So one person's glasses will not necessarily work for someone else. In contrast, the glasses that Hasan and his team designed can be adjusted to meet anyone's visual needs.
Read more at Science News for Students, here.
Image courtesy DAN HIXSON/UNIVERSITY OF UTAH COLLEGE OF ENGINEERING