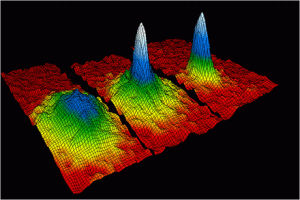 A Bose-Einstein condensate (BEC), the first of which was shown experimentally 22 years ago, isn't your garden variety state of matter. It formed at a fraction above absolute zero and only in atoms that act like bosons, one of two types of fundamental particles. Bosons don't follow the Pauli exclusion principle, which prohibits two particles from existing in the same quantum state. When bosonic atoms are cooled to form a condensate, they can lose their individuality. They behave like one big collective superatom, analogous to how photons become indistinguishable in a laser beam. But it's even weirder than that.
"In a very good analogy, one can view a BEC as a bell, which begins to ring spontaneously when it is cooled below a certain temperature," writes physicist Nick Proukakis at the Joint Quantum Centre Durham–Newcastle in the United Kingdom, in Universal Themes of Bose–Einstein Condensation, a forthcoming collection of research essays on progress in BECs. That behavior provides physicists with an extraordinary opportunity: to study bizarre quantum effects on a large scale, instead of having to probe individual particles.
For the last two decades, physicists have treated BECs something like Play-Doh. They poke it, smash it, tickle it with lasers, and trap it in magnetic fields. They mix condensates together to see what happens, and use it to slow down light. They have observed strange behaviors that would have been impossible to predict even two decades ago: solids that flow through themselves, for example.
Read more in PNAS, here.