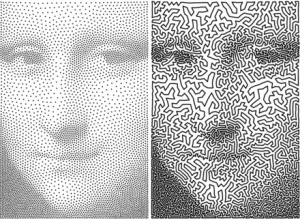 Optimization is the mathematical quest for the best way to do something, from finding the shortest distance between two places to figuring out the best way to pack a suitcase. It often involves calculating the highest or lowest value of something. The applications are far-reaching. To Bosch, they also offered a pleasing aesthetic. "I wanted to convince my students that this material I teach is beautiful and incredibly applicable," says Bosch, who teaches at Oberlin College in Ohio. "My mission was to show them that pretty much any field you could think of has optimization applications."
So Bosch went looking for examples in areas that seem as far from mathematics as one can get. He settled on visual art. There may not be any obvious overlap between the two pursuits, but Bosch figured that if he could show his students how optimization methods could produce art, then maybe he could convince them the field is applicable almost anywhere. "It became an obsession," he says.
And it paid off: Bosch is now known among mathematicians—and the math–art subset of that community—for his line drawings, mosaics, and sculptures created using solutions to optimization problems. He's also organized showings of mathematical art at galleries and conferences, and has given lectures to audiences ranging from elementary school children to the mathematically curious at the Museum of Math in New York.
Read more about the art of Robert Bosch in PNAS, here.
Image: Robert Bosch